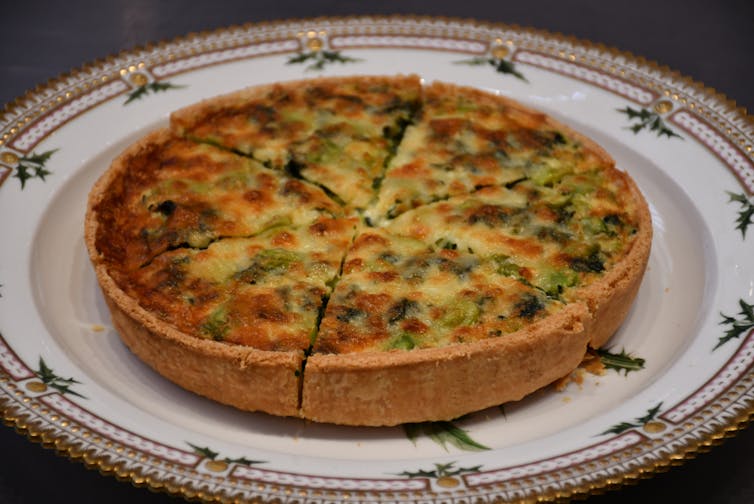 Lauren Ball, The University of Queensland and Emily Burch, Southern Cross University
If you are a monarchist, or just enjoy the tradition of the royal family, you may have heard about the Coronation Quiche – made with spinach, broad beans and tarragon.
The idea is for us to make it and share it with friends and family during the coronation celebrations in May. King Charles and Queen Consort Camilla have just shared a recipe.
As dietitians, we're interested in the quiche's nutritional value. So we analysed its contents and found that although it's quite a healthy dish, we could make a healthier version. Spoiler alert: the original recipe contains lard (pork fat).
We've also found we could make the quiche using cheaper or more easily available ingredients.
What exactly is a quiche?
Today, most people consider quiche a French dish that's essentially a savoury pie. It typically consists of a pastry crust filled with a mixture of eggs, cream and cheese, plus various other ingredients such as veggies, meat and herbs.
Quiche can be served hot or cold. You can have it for breakfast, lunch or dinner with salad or veggies.
How much does it cost?
Quiches are usually quite economical to make. Most of the basic ingredients are cheap, and you can adapt the fillings depending on what's in the fridge or left over from recent meals.
Let's see if this applies to the Coronation Quiche. We split the costs into typical quantities you can buy at the shops (for instance, six eggs) and the costs to make the quiche (which only needs two eggs).
If you make the quiche from scratch and have to buy the ingredients in quantities sold in the shops, this will cost you almost A$35. Although this may seem a lot, you'll have some ingredients left over for another meal.
So how much do the ingredients cost for one quiche? We worked it out at $12 for the entire quiche, or $2 a serve. Quite reasonable!
Can you make it even cheaper?
Busy lives and the rising cost of living are front of mind right now. So here are a few things you can do to save time and money when making a Coronation Quiche:
buy pre-made pastry. Keep any sheets you don't use for the quiche in the freezer

use home-brand products where possible

consider vegetable shortening as it is a little cheaper than lard

buy vegetables in season and from a farmers' market

can't find tarragon? Try seasonal and cheap herbs such as parsley, basil or rosemary

can't find broad beans? Try cheaper pulses such as edamame or cannellini beans.
How nutritious is the Coronation Quiche?
We also looked at the Coronation Quiche's nutritional profile. We expressed quantities for the whole quiche, and per serve.
The healthy … and the not so healthy
This quiche has high amounts of healthy protein and fibre that come from the broad beans and eggs.
One serving of this quiche gives you about 18-25% of your daily protein and about 10% of your daily fibre requirements, which is great.
But the quiche has high levels of saturated fat, mostly from its high amounts of lard, butter and cream.
Saturated fat has been linked to an increased risk of cardiovascular events, such as heart attacks and stroke, because it raises levels of LDL cholesterol (the bad kind of cholesterol).
This LDL cholesterol can build up in the walls of arteries and form plaques, leading to arteries hardening over time and increasing the risk of heart attack and stroke. So, high amounts of saturated fats is something we want to avoid eating too much of, especially if we have cardiovascular disease. It's also something we want to avoid if we're trying to lose weight.
For an average Aussie consuming roughly 9,000 kilojoules per day, the recommended maximum intake of saturated fat is about 24 grams.
Just one serve of this quiche has about 17g of saturated fat, which means there's not much wriggle room for other foods after you have a slice.
You may be better off trying this quiche instead, as it has half the amount of saturated fat as the Coronation Quiche. You could even try a crustless quiche.
4 ways to make a healthier quiche
Here are a few swaps to help make this recipe healthier:
1. Use low-fat options. If you're watching your weight and looking to reduce the kilojoules of the quiche, swap the full-fat cheddar cheese, milk and double cream to low-fat products. This will reduce the total fat content per serve from 29.6g to 15g and save 112.2 kilojoules per serve
2. Ditch the lard. Swap the lard for butter to save 15g of total fat per serve. This may change the texture of the quiche slightly but it will reduce the kilojoules
3. Use feta. Swap the cheddar cheese for feta cheese, which has fewer kilojoules per gram
4. Add extra veggies. This increases the fibre content of the quiche and adds loads of extra nutrients.
---
Correction: This story has been updated to price butter at $3.70 per 250 grams. An error was made in the original calculation.

Lauren Ball, Professor of Community Health and Wellbeing, The University of Queensland and Emily Burch, Dietitian, Researcher & Lecturer, Southern Cross University
This article is republished from The Conversation under a Creative Commons license. Read the original article.