Two Australian Museum Eureka Prizes have been awarded to University of Queensland researchers for their outstanding discoveries in the fields of health and physics.
The top awards for science were presented to UQ's Optical Physics in Neuroscience team and the cross-institutional CF Air team for their respective work in devising cutting-edge methods for studying how our brains detect gravity and motion, and for uncovering how bacterial pathogens are transferred between cystic fibrosis (CF) patients.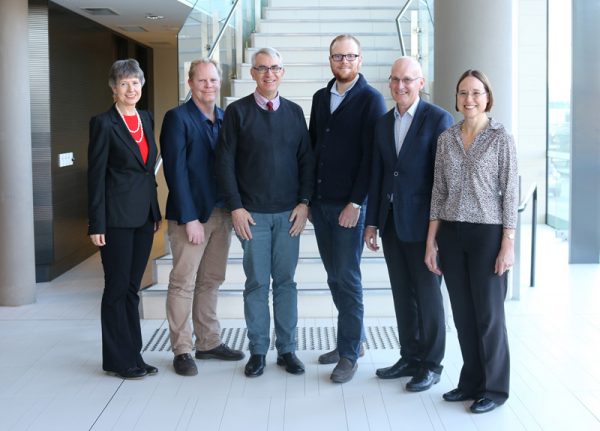 The CF Air team, which includes researchers from UQ, won the 2018 Australian Infectious Diseases Research Centre Eureka Prize for Infectious Diseases Research.
The team uncovered the process by which the deadly pathogens causing airway infections are transmitted between cystic fibrosis (CF) patients.
School of Public Health senior lecturer and team member Dr Luke Knibbs said the award highlighted the group's efforts to reduce infection and improve quality of life for CF patients.
"It's very humbling to receive an award judged by scientists and policy-makers, particularly because we were nominated alongside some outstanding researchers," he said.  
"Our team draws together an eclectic but complementary set of people and skills spanning clinical medicine, aerosol physics and microbiology.
"It's only through this multidisciplinary approach that we can tackle the studies that we do – the whole is certainly greater than the sum of the parts.
"Ultimately we hope that our work will lead to a reduction in infection rates amongst CF patient groups, improving lives and tackling the $70 million per annum direct costs of CF in Australia."
CF Air team's UQ members are Professor Scott Bell (Faculty of Medicine), Dr Luke Knibbs (School of Public Health), Dr Tim Kidd (School of Chemistry and Molecular Biosciences) and Professor Claire Wainwright (Child Health Research Centre).
Image above: CF Air team - UQ's Dr Tim Kidd (second from the left), Professor Scott Bell (third from left), Dr Luke Knibbs (third from the right), Professor Claire Wainwright (far right).
Media: Dr Luke Knibbs, l.knibbs@uq.edu.au, +61 7 336 55409