Two University of Queensland researchers have been elected as Fellows of the Australian Academy of Health and Medical Sciences (AAHMS).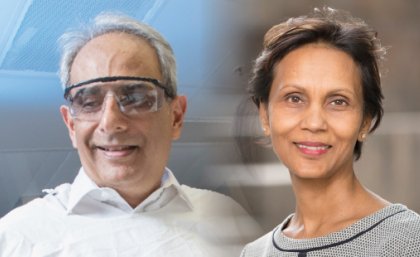 The School of Public Health's Professor Gita Mishra and Centre for Clinical Research's Professor Sunil Lakhani have been recognised for their outstanding leadership and contributions to health and medical science.
Professor Mishra is internationally recognised for her expertise in women's health epidemiology, and leads the flagship Australian Longitudinal Study on Women's Health.
A strong advocate for social and health policy concerning women around the world, Professor Mishra presents regularly at key United Nations agencies and has many international collaborations.
Professor Lakhani is a leading clinical and molecular pathologist and his work has helped to standardise breast cancer diagnostic practices with resultant impacts on clinical management.
His research focuses on pre-invasive breast cancer and its impact on breast-screening practices, the pathology of BRCA1/2-associated breast cancer, and new therapeutic options for brain metastases - a disease with very poor outcomes.
Academy President Professor Ian Frazer said research by the new Fellows – enabled by government and philanthropic funding – would help to ensure health care quality and equity as we enter the age of precision medicine.
The 49 new Fellows elected this year represent a range of clinical and research areas including infectious and chronic diseases, mental health, neuroscience and cancer research
Media: Kim Lyell, k.lyell@uq.edu.au, +61 427 530 647.