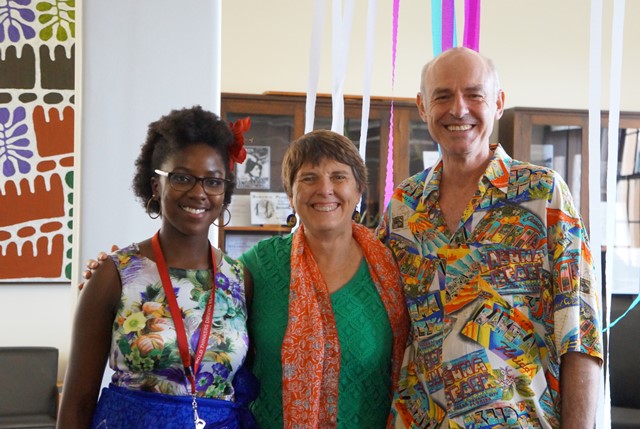 One of The University of Queensland's most influential and accomplished public health researchers is about to head north to take up a leading position at James Cook University (JCU).
Professor Maxine Whittaker, currently a Professor of International and Tropical Health at UQ's School of Public Health, has been appointed the Dean of the College of Public Health, Medical and Veterinary Sciences.
In this role, Professor Whittaker will oversee teaching and research in public health, tropical medicine, biomedical sciences, veterinary science, and molecular and cell biology.
Head of School of Public Health, Professor Charles Gilks, said Professor Whittaker's enthusiasm and passion would be missed.
"Over her career, Maxine has been enormously influential in research and teaching across a diverse range of topics in public health and she will be a tremendous asset to JCU," Professor Gilks said.
"She has contributed to more than 80 publications and guided many PhD, Masters and undergraduate students on a path to their future careers.
"Our loss is JCU's gain, and we wish Maxine all the best in her new role."
Professor Whittaker is active in scientific research with a particular interest in the fields of operational and health services research, and medical anthropology.
Her main interest is presently in malaria and other vector-borne diseases, elimination of infectious diseases, sexual and reproductive health programmes, and epidemic and pandemic responsiveness of communities.
She has extensive experience in project and programme design in health and development, and has worked for a variety of international development partner and Non-Government Organisations.
Professor Whittaker said she would be sad to leave UQ, but that she was looking forward to new challenges at JCU.
"I am excited about the unique opportunity JCU provides to advance the practice of ecosystem health in its teaching, research and engagement activities," she said.
"JCU is unique in being the only university in Australia, and one of only a few in the world, with human health and public health and animal health in the same Division."
Professor Whittaker begins her new role in late February 2016.
Media: UQ Faculty of Medicine and Biomedical Sciences, Kate Gadenne, k.gadenne@uq.edu.au, +61 7 3346 5309