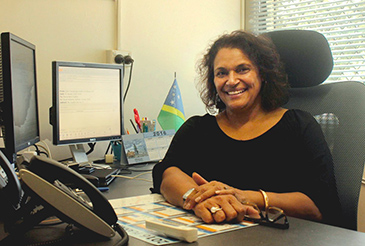 Dr Audrey Aumua has been appointed as Deputy Director-General of the Pacific Community (SPC) based in Suva, Fiji. 
Dr Aumua will lead SPC's programmes based in Suva and will be the Director-General's representative in Fiji.
Dr Aumua is of Fijian descent and is currently the World Health Organization (WHO) Resident Representative based in Honiara, Solomon Islands, where she provides technical and strategic leadership to the government, as well as diplomatic representation for the organization in Solomon Islands.
Dr Aumua has extensive experience in research, policy development and management in the health and education sectors in New Zealand, Australia and the Pacific region.
In addition, Dr Aumua has a track record of achievement in the private sector. She was founder and Managing Director of a large education and training establishment in Auckland and was Director of an economic development initiative for small business with the Government of Samoa.
Prior to her WHO appointment Dr Aumua was Technical Manager of the Health Information Systems (HIS) Hub, based at The University of Queensland's School of Public Health, leading the establishment of a coordination platform for technical partners to regionally collaborate on a joint systems agenda for improving civil registration and vital statistics (CRVS).
She was Chief Executive Officer of a large health trust in Auckland and previously held the position of Chief Advisor on Pacific Populations at the New Zealand Ministry of Health.
Dr Aumua holds qualifications from the University of Auckland in English, teaching and business, and completed a Master of Public Policy from Massey University and a PhD from Curtin University. Her PhD thesis was on international public policy reforms in the health sector in the Pacific region.
"I am excited and very honoured to be able to join the largest scientific and technical development organization in the region at a time when Pacific countries and territories are dealing with significant development challenges, and I look forward to working together with SPC colleagues and with other regional organizations to support the region," Dr Aumua said.
The Director-General of the Pacific Community, Dr Colin Tukuitonga, welcomed the appointment of Dr Aumua to the role of Deputy Director-General (Suva) which complements the position of Deputy Director-General, Operations and Management Directorate, based at SPC's Noumea headquarters in New Caledonia.
"I am delighted that someone with Dr Aumua's high-level strategic, policy and development experience, particularly in the Pacific region, is joining SPC.
"I am looking forward to working with her to implement the Pacific Community Strategic Plan and in furthering our collective ambitions for the region."
Dr Aumua takes up her new role with SPC on 2 March 2016.
Media contact: Julie Marks, Director, SPC Strategic and Corporate Communication, juliem@spc.int  +687 26 01 74
Original media release appears on the Pacific Community (SPC) website.