The rapidly changing world of HIV prevention for gay and bisexual men in Queensland: results from the longitudinal Queensland Gay Community Periodic Survey
11 June 2019

1:00pm

–

2:00pm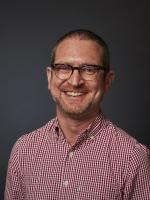 ABOUT THE SPEAKER
Martin Holt is a Professor at the Centre for Social Research in Health, UNSW Sydney, where he has worked since 2003. A social scientist by training, he specialises in HIV prevention research with gay and bisexual men. For the last decade, he has led a program of work on the acceptability, uptake and impact of biomedical HIV prevention methods, such as pre-exposure prophylaxis and treatment as prevention. He is particularly interested in the community and population-level impacts of new prevention technologies, and uses social science theory and critical public health research to understand the complex and unexpected effects that interventions and programs can have. He has led the Gay Community Periodic Surveys since 2009 and the PrEPARE Project since 2011. He is also a Deputy Editor of the Journal of the International AIDS Society and an Associate Editor of AIDS and Behavior.
SEMINAR OVERVIEW
The Queensland Gay Community Periodic Survey has been conducted for over 20 years. It is a repeated, cross-sectional survey conducted during LGBTIQ festival events, with community-based recruitment led by trained peers, supplemented by online recruitment. The project is conducted in partnership between UNSW, the Queensland AIDS Council, Queensland Positive People and Queensland Health. The survey focuses on practices related to HIV and sexual health, such as condom use, HIV testing, sex with casual and regular partners, and drug use. In the last ten years we have focused on the introduction and impact of two highly effective prevention strategies, pre-exposure prophylaxis (PrEP) and treatment as prevention. The most recent survey findings show a rapid and continuing rise in PrEP use, high levels of HIV testing and treatment, and declining levels of condom use. This presentation will review these and other trends and consider opportunities and challenges in strengthening HIV prevention in Queensland during a period of disruption and change.
EVENT DETAILS
Date:  Tuesday 11 June, 2019
Time: 1 – 2pm
Venue: Room 113, Level 1, School of Public Health Building (887), 288 Herston Road, Herston

Livestream: https://uqz.zoom.us/j/669472636 
Contact: med.research.sph@uq.edu.au
About Seminar Series
Our seminars are held weekly on a Tuesday afternoon and showcase the latest public health research by the School's researchers, adjuncts and visitors. 
No RSVPs required, all are welcome.
For more information about our seminar program, please email med.research.sph@uq.edu.au
Subscribe
Subscribe to be kept updated about future seminars.
Seminar recordings
A selection of seminar recordings is available online to users with a UQ username and password. 
Venue
Level 1 Public Health Building (887) 288 Herston Road (corner of Herston Rd and Wyndham St) The University of Queensland Herston QLD 4006, Australia